Introduction to GCP Compute Engine
Lab Details:
This lab walks you through GCP Compute Engine VM Instance creation.

You will be creating a Ubuntu Operating System with GUI mode

Region: us-central1

Duration: 1 hour 15 minutes
Note: Do not refresh the page after you click Start Lab, wait for a few seconds to get the credentials.
In case while login into Google, if it asks for verification, please enter your mobile number and verify with OTP, Don't worry this Google Account will be deleted after the lab.
What is a GCP Compute Engine?
GCP Virtual Machine is an Infrastructure as a Service. All you've got to make and put together your own virtual machine instances. GCE provides you full infrastructure within the variety of a Virtual Machine. You have complete control over the VMs' instances and the runtime. Actually, GCP Compute Engine is the easiest way to use Google's data Centers virtually. You have direct access to the packages, and you put in all the package that you simply need, that is typically a web server, database, etc

Simply, A Compute Engine is comparable to a virtual PC, where you would deploy a small website plus the database then setting up the DNS yourself.

GCE instances are the most customizable unit there and thus should only be used when your application can't run on any other GCP services. Most of the time people use GCE to transfer their On-Prem applications to GCP since it requires minimal changes.

Compute Engine offers a set of predefined machine types and custom machine types also so that you can use it while creating an instance. A predefined machine type has a defined number of vCPUs and amount of memory, whereas in custom machine type you can choose number of vCPUs and memory.

The only drawback is that you have to manage your app and virtual machines yourself including control of installed disk drives.
Advantages

:
Easy to ramp up, there is no need to ramp up on Kubernetes or App Engine.

Complete control - you can leverage many Compute Engine features directly and install the software packages of your need.

No need for public IPs.
Disadvantages
:
Mostly do-it-yourself, which can be challenging, although you can reuse solutions, sometimes lack of experience may lead to the security breach.

More management overhead.
Architecture Diagram
: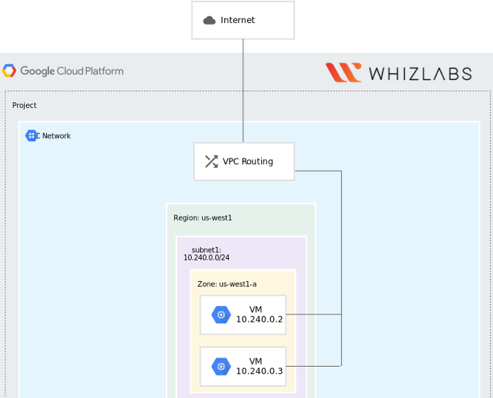 Lab Tasks:
Login into GCP Console.

Creating a VM Instance.

SSH into the instance.

RDP to GUI mode.
Join Whizlabs_Hands-On to Read the Rest of this Lab..and More!
Step 2 : Click on "Access Now" to view the course you have purchased
Step 3 : You will be taken to our Learn Management Solution (LMS) to access your Labs,Quiz and Video courses