Create and connect to Amazon FSx using Windows Instance
Lab Details
This lab walks you through creating the Amazon FSx file system and working on storing and retrieving files.

You will practice using AWS FSx.

Duration: 2 hours

AWS Region: US East (N. Virginia) us-east-1
Introduction
Amazon FSx
Amazon FSx is a file server provided for Windows.

It is a fully managed, highly scalable and exceptionally reliable file storage system that is accessible over the industrial standard server message block that is SMB protocol.

It is built on Windows Server which delivers a wide range of administration features such as user kotas, end user file system and Microsoft Active Directory integration.

It also offers single-AZ and multi-AZ deployment options.

It has fully managed backups and encryption data at rest in the transit.

The cost can be optimised, and performance of your workloads needs with the SSD and HDD storage option.

You can also scale storage and change the throughput performance of your file system any time.

Amazon FSx file storage is accessible from Windows, but we can also access it from Linux and Mac OS compute instances and devices running on AWS or on-premises.

It has a storage capacity of 32 gb to 64 TB.
Architecture Diagram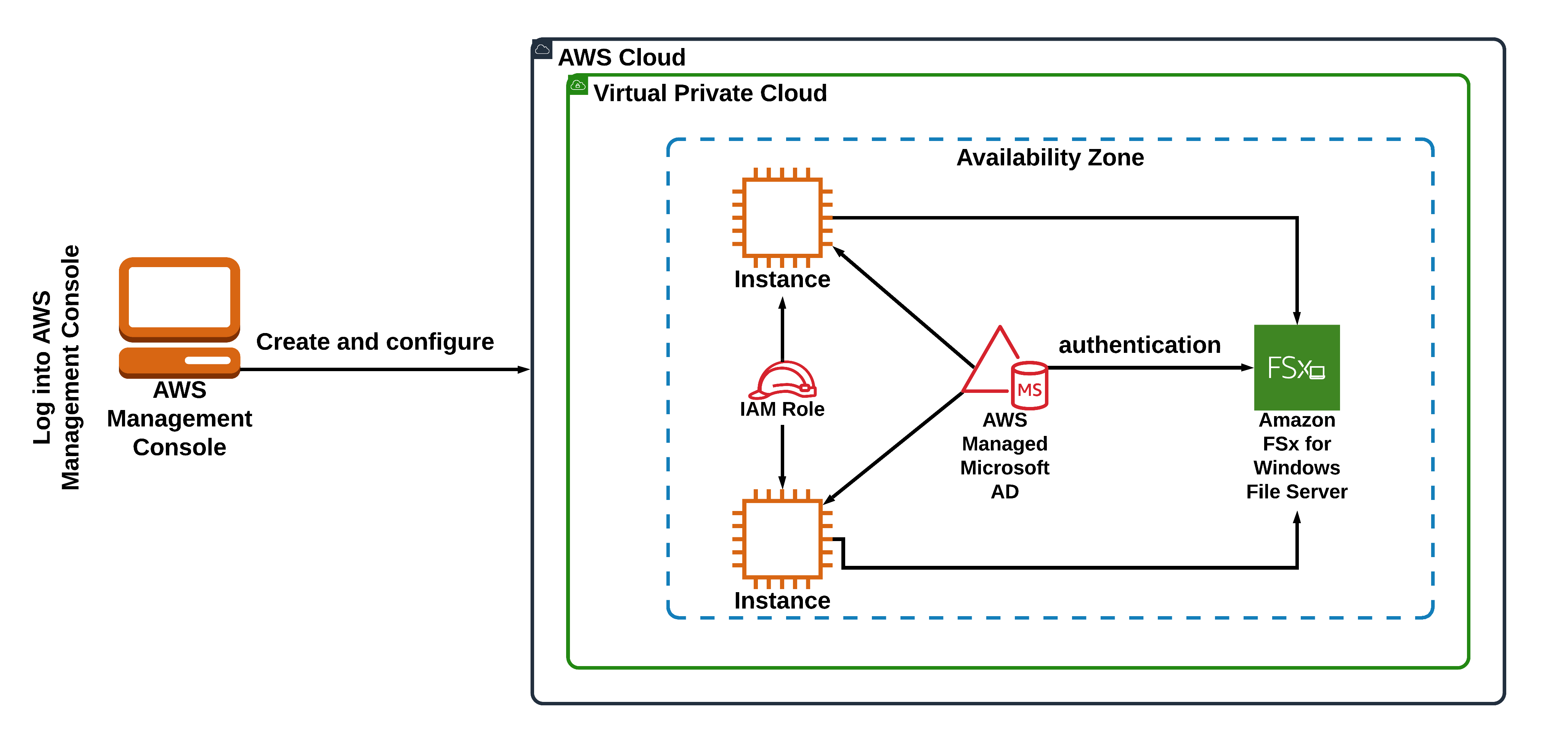 Task Details
Log into the AWS Management Console.

Creating an IAM Role.

Creating an Active Directory Service for FSx.

Creating a Security Group.

Creating Windows EC2 instance to access the file system

Creating an Amazon FSx file system.

Creating Windows EC2 instances to access the file system.

Connecting to Whiz_FSx_Write Instance and mapping the file share on the Instance.

Connecting to Whiz_FSx_Read Instance and accessing the files over the file system.

Deleting AWS Resources
Prerequisites
In order to proceed with the lab, you should have a Remote Desktop application on your computer.
For Windows users
Click on the Start button, and search for RDC. You will find the Remote Desktop Connection application.

For Mac users
On Mac, we have to download the Remote Desktop application.

Go to the App Store, and search for Microsoft Remote Desktop and download the following application.

For Linux users
On Linux, Remmina is usually included in the distribution.

If not, go to https://remmina.org/how-to-install-remmina/ and follow the instructions to install for any linux distribution.