Create an RDS PostgreSQL database and execute SQL queries
Lab Details
This lab walks you through the creation and testing of an Amazon RDS database. We will create an RDS PostgreSQL database and test the connection.

Duration: 90 minutes

AWS Region: US East (N. Virginia)
Prerequisites
Difference between PostgreSQL and MySQL database
PostgresSQL is an object-relational database management system whereas MySQL is a relational database management system.

PostgreSQL is only supported by Windows, Mac OS X, Linux, and BSD but not by UNIX, z/OS, Symbian, AmigaOS. Whereas MySQL is supported by the following operating system, Windows, Mac OS X, Linux, BSD, UNIX, z/OS, Symbian, AmigaOS.

PostgreSQL is a product of the Global Development Group while MySQL is the product of Oracle Corporation.

PostgresSQL provides complete backup online, On the other hand, MySQL, mysqldump, and XtraBackup tools provide backup.

PostgreSQL provides data domain objects while MySQL does not offer data domain objects.
DBeaver Setup
Architecture Diagram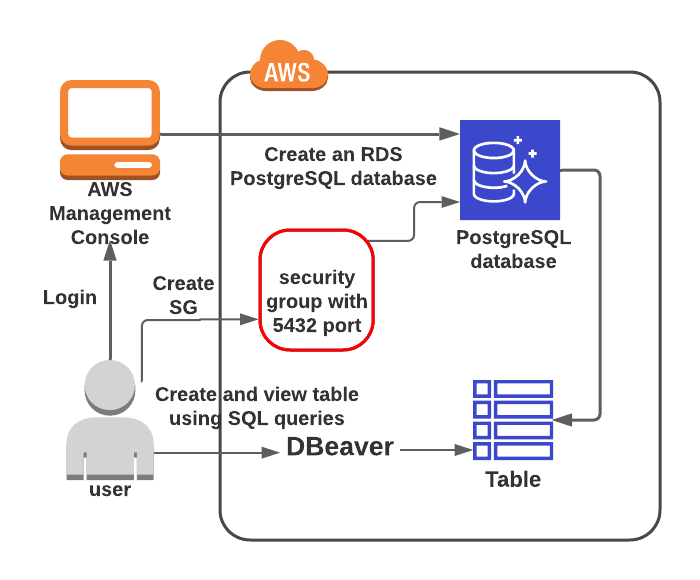 Task Details
1. Create RDS Database Instance.
2. Connecting to Amazon RDS PostgreSQL Database on a DB Instance.
3. Connecting from local Linux/IOS/Windows Machine
4. Execute Database Operations
Join Whizlabs_Hands-On to Read the Rest of this Lab..and More!
Step 2 : Click on "Access Now" to view the course you have purchased
Step 3 : You will be taken to our Learn Management Solution (LMS) to access your Labs,Quiz and Video courses