Create S3 Glacier Vault and upload a file
Lab Details
This lab walks you through the creation of a Glacier vault. We will use CloudShell to create and upload files to the archive.

You will also create an SNS topic and subscribe to your email.

Duration: 60 minutes

AWS Region: US East (N. Virginia)
Introduction
Glacier
Glacier is the cheapest S3 storage class, it is used for archiving data.

One can put data in Glacier using the S3 Lifecycle policy. Example: After 180 days, transition to Archive or Deep Archive

It gives 99.999999999% durability and high security for storing data for the long term.

Use case:

Archiving data for compliance purpose

Replacement to On prem's magnetic tape.
Architecture Diagram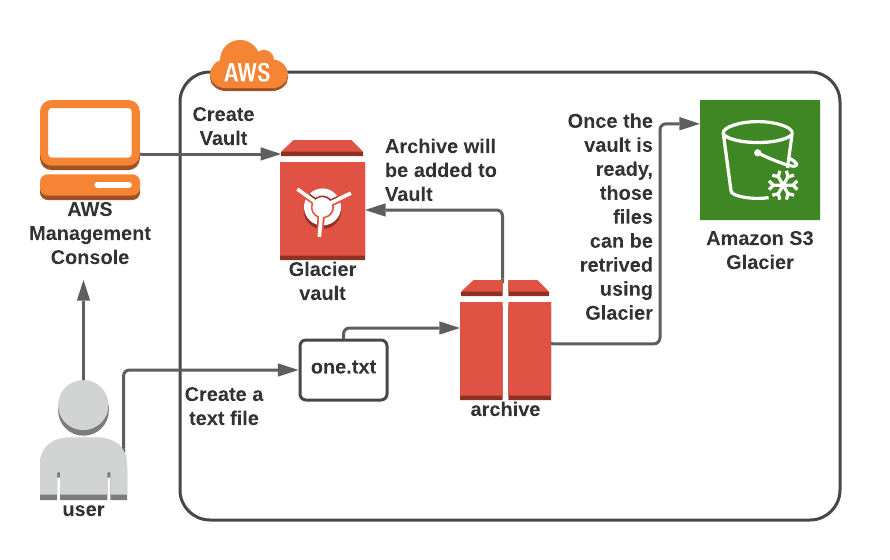 Task Details
1. Launching Lab Environment
2. Create SNS Topic
3. Subscribe to SNS Topic
4. Create a Glacier vault
5. Create an Environment in CloudShell
6. Create a file and upload them to the glacier vault archive
7. Validation test
Join Whizlabs_Hands-On to Read the Rest of this Lab..and More!
Step 2 : Click on "Access Now" to view the course you have purchased
Step 3 : You will be taken to our Learn Management Solution (LMS) to access your Labs,Quiz and Video courses